Floor Plan
Longfellow Apartments is the gateway to convenient living in the heart of a thriving city. One glance at our well-designed one, two, and three-bedroom apartments in Beaumont, and you will soon know what we mean. Pair that with a host of lifestyle-oriented features and an excellent location, and there's no doubt you'll find what you are looking for. Pets allowed and all utilities included available - talk to our team for details!

Interested in Corporate Housing? Please contact our office directly for more information.

erested in Corporate Housing? Please contact our office directly for more information.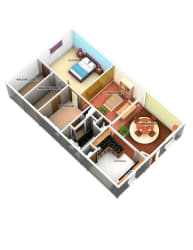 A three-dimensional birds-eye view image of the apartment. 1-bedroom 1 bath apartment (A1) with 660 square feet. Entrance located bottom left. Front door opens to dining room, with kitchen on the left. Living room located past dining room. Bathroom to the left of living room. Bedroom top right of floorplan with walk-in closet. A second walk-in closet accessible through bathroom.
Spacious Apartments in Beaumont, TX
Pick a home that best suits your needs. In case a cozy and well-divided layout is what you're after, our one-bedrooms could be your answer. They range between 660 and 756 square feet. For a bit more elbow room, you might consider the 1,008-square-foot two-bedroom or go big with the three-bedroom which grants you 1,300 square feet of space to live comfortably.
The common denominator that makes all these Beaumont, TX, apartments so enticing is the collection of fixtures that turn them into a personal getaway. These include practical kitchens with pantries, faux-wood flooring, ceiling fans, bedroom carpeting, dedicated dining rooms, and so much more. Short term leases are also up for grabs, while the access to an onsite laundry facility, business center, and luxurious swimming pool, paired with having all the utilities covered in the monthly rent, enhance your convenience.
We can't help but tell you about our exciting location only 5 minutes away from the city center and just as close to everywhere you need to venture. Thanks to the adjacent 287, 69, and 59 highways, reaching Port Arthur, Port Neches, or Nederland will be a breeze, as well as all the employers, retailers, and entertainment spots around. We'll only mention the Lamar Institute of Technology, Cattail Marsh, Beaumont Civic Center, and Kroger; the rest is up to you to discover. Come by for a tour and let our bilingual staff help you pick your next apartment in Beaumont, TX. Call now!
Map View